Job Title: Project Management Intern; 
Location: Islamabad (frequent travel in Pakistan involved)
Duration: 3-months contract (extendable); 
Organization: Hanns Seidel Foundation (HSF) Pakistan
You can also apply for the Amazon Internship Program for Bachelors, Masters, PhD Students
Background: HSF is Pakistan's distinguished partner on good governance, the rule of law, and contacts with Germany. The German political foundation stands for a comprehensive approach in the field of development cooperation, and it has been active in Pakistan since 1983. For more information, please visit pakistan.hss.de.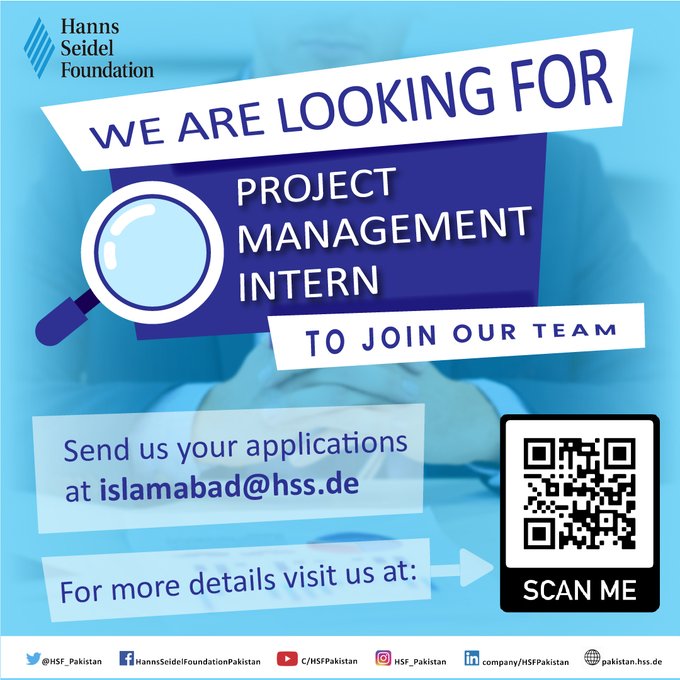 Position Objectives: HSF is looking for an Intern from 1st October, 2022 onwards who will support the HSF Pakistan Team in all tasks related to the field of project management.
Job Description:
Supporting the preparation, organization and implementation of project activities, including Model CCI and visit programs
Communication with different event participants and other relevant stakeholders
Preparing project reports and assisting in project documentation
Participation in post-program activities such as accounting and statistical evaluation
Translations Urdu-English
Supporting social media channels updates
Clerical work and other administrative and communication tasks
These key responsibilities are subject to flexibility. Any changes will be made in consultation with the Intern and in line with the nature of the work and the level of responsibility.
Qualifications Required:
University degree or enrollment (after completion of minimum two years of university studies) in any social sciences program with a strong understanding of political structures and mechanisms in Pakistan
Interest in the development sector and political development of Pakistan
Academic or work experience in communication, project management, and/or research
Ability to work conceptually, strategically, and systematically
Good working knowledge of Microsoft Office
Willingness to travel nationally, usually to different universities in Pakistan
Familiarity with HSF's work and past associations will be considered a plus
Application Documents Required:
Motivational letter in English (max one A4 page) – Learn How to write a successful purpose statement / cover letter? Free Templates!
CV in English (max two A4 pages)
Copies of supporting documents, such as university degrees, job/internship certificates, or work samples in English (max five A4 pages)
HSF strongly encourages women and transgenders to apply. The selected Intern will receive a fair monthly expense allowance. Official travel expenses are reimbursed according to the internal rules and regulations of HSF Pakistan.
Deadline: September 5th, 2022
How to Apply?
The application must be submitted as one single compiled pdf file (max eight A4 pages in total) in the order (1-3) mentioned above. It should only contain relevant information for this specific internship position. Kindly submit it electronically to Islamabad(at)hss.de by Monday, 5 September 2022 at 23:59 (PKT). All shortlisted candidates will be contacted by HSF shortly afterwards.
Please note that incomplete or incorrect applications will not be considered. Kindly refrain from enquiries pertaining to the current status of the application process.
Send us your name on WhatsApp to subscribe to the latest Scholarships / Internships information.