Ever heard of a 'Curious Vitamin'? Well, it is no different from vitamin D. Despite its name, vitamin D is not a not just a vitamin; but a hormone. One which is unique in its kind, produced by our bodies in the presence of sunlight. Approximately, 90% vitamin D replenishment can be achieved by getting 5 to 30 minutes of sun twice a week, hence also called 'Sunshine Vitamin'. In addition to that very few foods naturally contain vitamin D including cod liver oil, egg yolks, salmon and tuna. Getting enough vitamin D is important for optimal health. Vitamin D is best known for playing a role in healthy bones. However, it has other roles in the body that include strengthening the immune system, reducing the likelihood of developing heart disease, depression, and flu, to name a few!
Unfortunately, Vitamin D deficiency and insufficiency has emerged as a pandemic, affecting more than one billion people worldwide irrespective of age and gender. The situation is more precarious in developing countries of South Asia. Nimitphong et al. reported that 6-70% population in Southeast Asia and 70% in South Asia have been affected by VDD.
Pakistan is a sundrenched South Asian country with cutaneous production of vitamin D possible throughout the year. However, various surveys indicate that Pakistan occupies a larger share of vitamin D deficient population. A review-based study by Syed et al. conducted between the years 2008 and 2018 generated a cumulative figure of 58.17% for vitamin D-deficient and 26.65% for insufficient population in Pakistan.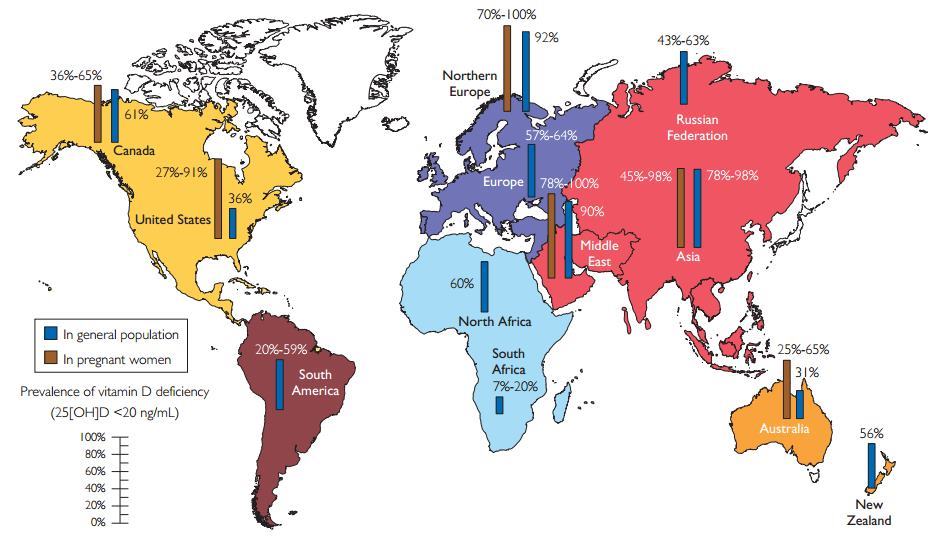 Isn't it surprising to see so much of D insufficiency in a country with ample sunshine; a region where one would assume it to be non-existent? Well, developing nations like Pakistan are more predisposed to the damaging effects of VDD for a bulk of reasons including:
Darker skin – have more melanin content that hinders the production of vitamin D.
Genetic factors, poverty, and illiteracy.
Sociocultural behaviors – avoidance of sun exposure, consumption of chapattis high in phytates that interfere with calcium absorption, and malabsorption of Vitamin D.
Malnutrition– generally natural food sources have low vitamin D content and therefore require fortification. Unlike many Western countries, Pakistan does not have a mandatory VD fortification policy in place.
Use of sun block, purdah observation and possibly the reason that women in general do not go outside the home may be responsible for VDD.
Is it possible to overcome D deficiency by some artificial means? "To ensure that you actually consume the recommended amount, it may not hurt to take a multivitamin or vitamin D supplement," said Bartels. For vitamin D supplementation, vitamin D3 is preferred over vitamin D2, because vitamin D3 is most effective in maintaining adequate levels of vitamin D in the human body defined as >50 nmol/L by Institute of Medicine, Food and Nutrition Board. While, <30 nmol/L accounts for deficient, 30-50 nmol/L for insufficient and >125 nmol/L for toxic levels of vitamin D.
It is important to recognize that there is a potential for vitamin D toxicity. Surprisingly, it would not be possible to differentiate deficiency and toxicity without monitoring blood D levels; for both the conditions show similar symptoms of weakness, headache, somnolence, nausea, and severe muscle and bone pain etc. In order to achieve sufficient D level, the Institute of Food and Agricultural Sciences has made recommendations based on international units (IUs) per day as:
Infants: 400 IU
Children and teens: 600 IU
Adults up to age 70: 600 IU
Adults over age 70: 800 IU
Pregnant or breastfeeding women: 600 IU
The above discussion gives rise to a question. Despite the availability of possible solutions, why is VDD pandemic going unchecked? Alamoudi et al. reported that there is lack of awareness and knowledge of vitamin D role and sources in several countries, including Pakistan. Diagnosis, surveillance and epidemiological surveys to gauge up the magnitude of the issue need to be typically focused.
A perusal of the publications in the recent past suggests life style changes, availability of vitamin D rich foods, mandatory vitamin D fortification of the foods, vitamin D supplementation programs, sufficient sun exposure, reduced environmental pollution and facilities for inexpensive and accessible diagnosis of VDD would help mitigate the gravity of the prevalence of VDD in Pakistani populations. First and foremost, efforts are needed to create awareness among population groups at individual and collective level. One possible way is that physicians should remind patients to adhere to the recommended dosages to avoid deficiency or possible therapeutic toxicity.
Last but not the least, there is even a point to ponder! Don't you think there exists an interplay between a long evolving vitamin D pandemic and the recent corona virus pandemic? Since low Vitamin D levels have been associated with both a higher number of coronavirus deaths and cases. Yisak et al. reviewed 9 studies, 7 of which showed that COVID-19 infection, prognosis, and mortality were correlated with vitamin D status. While, on the other hand, COVID-19 "Stay At Home" restrictions have deprived people of the unintentional Vitamin D consumption from sun, while performing their outdoor activities. This is particularly for Pakistan, where the majority of the population does not work in indoor settings.
Despite the many important health benefits of vitamin D, there is still a lot to unravel regarding the definition and causes of vitamin D deficiency, and calculation of population-based prevalence rates. Let's get tested to contribute in eradicating the pandemic!
A postgraduate student at NUST. As a researcher, I am aiming to upgrade the research level in Pakistan, so as not to look at others for the cause.