The applications for HEC scholarships in Thailand are open now. Chulabhorn Graduate Institute and HEC have collaborated to provide brilliant students with scholarships. The fully-funded scholarship opportunity is only for students of Pakistan.
Students who are seeking a postgraduate degree are welcome to apply. Avail this excellent opportunity to study in Thailand. 
Both male and female students can avail this opportunity. The scholarship for Pakistani students is available in a wide range of majors. Student can select their desired field to pursue their postgraduate degree.
Students can easily apply through the official website of Chulabhorn Graduate Institute. Moreover, they can apply through the HEC website as well. Avail this fully funded scholarship now. Submit your applications before August 1, 2022. 
Fields available
Environmental Toxicology.
Applied Biological Sciences: Environmental Health.
Chemical Sciences.
Deadline is August 1, 2022
Country: Thailand
Financial coverage: Fully Funded
Deadline: August 1, 2022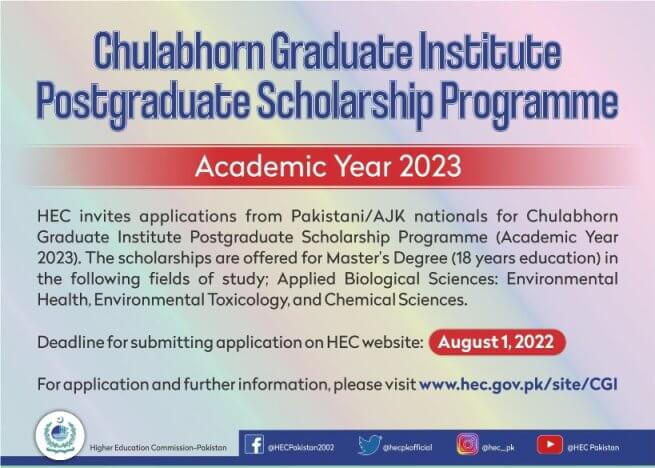 Eligibility Criteria :
Here are the eligibility criteria for the HEC Scholarship in Thailand:
Applicants must have completed their bachelor's degree.
Both male and female students can apply.
Furthermore, they must have scored a 2.75 GPA in a bachelor's degree.
In addition, they must not be over the age of 30.
Applicant must provide an English proficiency certificate or any English language test score.
Benefits :
The HEC Scholarship will provide the following benefits:
Tuition fees coverage.
Monthly stipend.
Health insurance.
Airfare tickets.
Visa fee coverage.
Accommodation.
Required documents:
Research Proposal.
Statement of Purpose.
Attested copies of academic degrees.
Academic transcripts.
Two passport-size photos.
Three letters of recommendation.
Medical certificate.
NOC in case of employment.
HEC application form in separate spiral binding.
Application Process:
The application process for the HEC scholarship is online.
For medical history and report form. Click below:
Send us your name on WhatsApp to subscribe to the latest Scholarships / Internships information.